Fuzia Team Gets Awarded at Women Economic Forum
Conferred with 'Young Leaders Creating a Better World For All' award.
New Delhi, India, 31st April 2018
Fuzia executive core team (Co-founder Shraddha Varma, Founding members Riya Kumar, Ria Singhal and Sakshi Shrivastava) participated in the Women Economic Forum 2018, held in Taj Vivanta, New Delhi, India. They were conferred with the award for 'Young Leaders Creating a Better World For All'.
Women Economic Forum is a global conference hosted by All Ladies League (ALL), celebrating extraordinary women from ordinary backgrounds who are working in making a change in the world.
Shraddha Varma, Co-founder of Fuzia and Sakshi Shrivastava, Manager of Public Relations and Marketing at Fuzia also gave talks to an international audience on matters of utmost importance. They addressed the burning issues of female education, upliftment and empowerment.
Fuzia's Co-founder, Shraddha Varma, giving a talk on Elevating Girls to Empower Communities.
Shraddha's words left a deep impact on the audience present there. She, very interestingly, discussed the solutions to widespread gender inequality, reforms in education and how to build confidence in young female minds. Her riveting talk urged leaders to support, elevate, educate and empower women for a wholesome development of our societies.
She talked about how important it is to educate women, so that we build healthier homes. She shared her personal stories and through a close bond with the audience, she helped them empathize with the people who are in dire need of being empowered.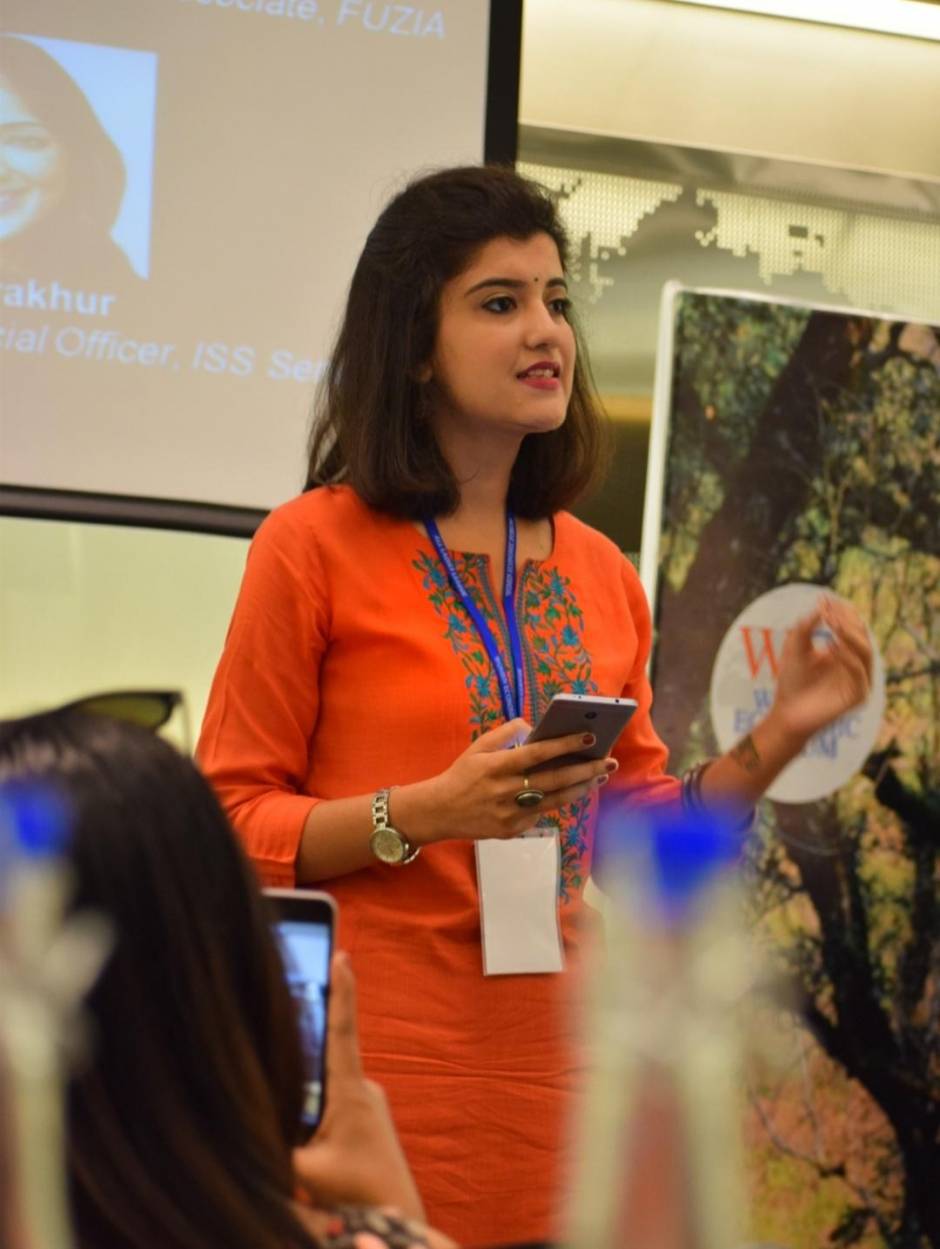 Sakshi Shrivastava, founding member and Manager, PR and Marketing, at Fuzia giving a talk on Developing Future Women Leaders and Diversity Initiatives.
Sakshi, being a writer by passion, narrated a story. The story took the audience places and showed them how crucial diversity initiatives are when leaders strategize and build policies that affect the masses. Her talk focused on upliftment of women--women from different backgrounds, different social/economic statuses and women belonging to different religious backgrounds.
She also shared her views on education of women, healthcare provisions and how the policies that are made should reach grass-root levels. She shared her vision of having women from all the different backgrounds right there in WEF and requested the leaders present there to aim at having various voices heard and valued when they build strategies.
The endeavours by Fuzia were widely appreciated and encouraged at Fuzia. Women from all over the globe stepped forward and shared their own stories and expressed their wish to become a part of the ever-expanding Fuzia family.
Furthering the partnership between WEF and Fuzia, the Fuzia team are planning to host a regional WEF conference in California in 2019, to bring together young women leaders to Silicon Valley, California. Fuzia hopes to support such global women conferences and meetups in the future besides its social media platform, to continue to spread the vision of Fuzia.
Fuzia is a global social-media platform for women where they network, build their careers and find emotionally strengthening relationships with other women. Fuzia encompasses the idea of 'empowerment through the fusion of cultures and ideas' and it is Fuzia's aim to help women of all ages and backgrounds from various parts of the world together at one place, empowering each other.
To be a part of Fuzia's global family, sign up today at www.fuzia.com and start expressing yourself.